You received a pdf document that requires you to edit some parts of it or some mistakes in it that need to be edited. To edit you may want to convert PDF to Word.
There are times where you are required to submit a file in word(.docx format) and you find it difficult to convert the pdf to word. We all have been through the same, and in this blog, we will show you exactly how you can convert a pdf document into a Word file.
It is useful to convert pdf to word when using an existing document as the basis of creating a new one or editing the earlier PDF documents to modify or rectify some content. Using an existing document as the basis for creating a new one
Yes, PDFs can be editable but, not many are comfortable with that, and making some major changes may be time-consuming. That's where converting it to a Microsoft word document is a good idea as many has hands down experience in it.
Not all tools can convert the exact PDF to word, some online tools that are free to use only extract the text for a PDF and not the images, while others will ignore any special fonts and formatting. Some tools that work are paid or requires you to sign in and use the tools as a free trial.
To solve this cloud pdf has created a free tool that converts your PDF files exactly as it is without any change to the content.
How to convert PDF to word using Cloud PDF tool
Cloud PDF tool to convert PDF to Docx file is simple and easiest to use.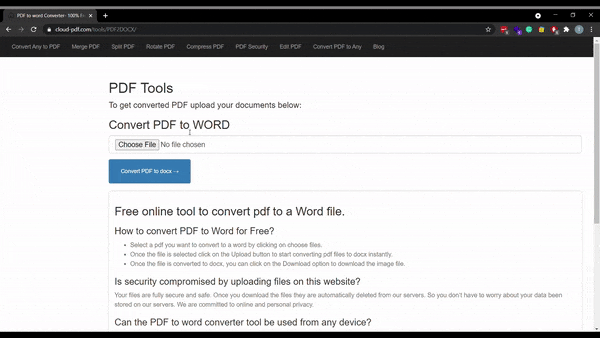 The first step is to navigate to the Cloud PDF converter tool. Click here to try out this tool.
Select the PDF file you want to convert into a Word file, by clicking on Choose File.
Once the files are uploaded click on Convert PDF to Docx button.
The tool will then start converting the tool and once the conversion is completed, you can download the Docx file by clicking on the Download button.
Unlike other free tools that have set limits of file size or upload limit, our tool does not require any of that, You can use these tools as many times as you want for free and unlimited use.
Another option to convert the PDF to word is using paid software that you require to download and register to use.
Once you made the required changes in the word document you can convert it back using cloud pdf converter tools.
Let us know in the comments below for what uses you convert pdf to word if you do. Share this with others and also let us know what features and improvements should we add to the tool to make it better.