Imagine you have to submit a report in a pdf format, by combining and merge PDFs received from different departments such as accounts, marketing, etc.
Merging PDFs is a relatively simple task. Learning the secret to merge PDFs will make your work-life easy. There might be different reasons you might need to combine and merge PDFs.
Organize your work better

Put together a report from different sources
Reduce document cluttering
Save on storage space
Password protect a single PDF instead of 10 of them
How to merge PDFs?
Lets show you how you can combine different PDFs into one.
First, create a new pdf. In that PDF you can copy the contents of different PDFs you want to combine. Yes, this is one way you can do it, but don't you think it will be time-consuming.
That's where Online tools such as Cloud-PDF's Merge PDF tool come into play. You can easily merge different PDFs into one without any hassle within seconds.
Here's an easy step by step guide on how to use our PDF merger tool.
Navigate to our Merge PDF Tool
Select the files you want to merge by clicking on Choose files.
Now click on the Merge PDF files blue button. This will then command the tools to start merging the pdfs
Once your PDF is ready in seconds, the tool will provide you a Download button. Simply click on the button and download your merged PDF.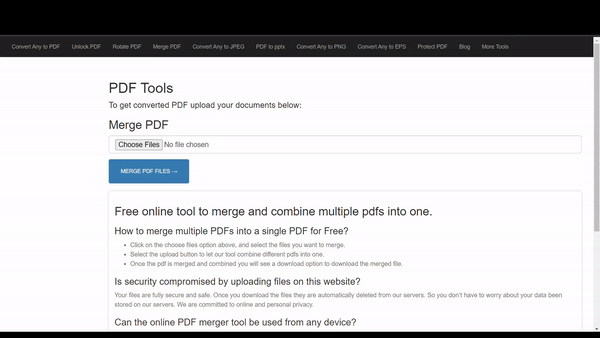 The best part about this tool is it is completely free and can be used unlimited times. Also, it does not require you to register to use it. This tool indeed can be your companion in clearing the clutter of different PDFs into one.
Unlike other PDF tools, it does not require you to download the software. Everything happens online using the magic of the Cloud. All you will need is an internet connection and a browser.
You may have a confidential document that you may think will be risky to upload on an online platform. We understand the issue and that's why we have developed our system in such a way that once a file uploaded and the necessary changes are done, our servers automatically delete all the files uploaded, once you exit the tools page.
Now this was a simple and hassle free way to merge two or PDFs into a single one.
What if we need to merge different types of documents such as word files, image files, Powerpoint files, etc into a single PDF. You can visit the Cloud PDFs tools – Any to PDF and convert all the files into PDFs and then use the merge tool to combine and stitch together the PDFs.
There are other methods as well to merge different PDFs into one but are time-consuming and may have a lot of steps to follow.
If you like this blog, do consider sharing it with your colleagues and help them organize PDFs and merge them in the simple way possible. Comment down below what feature would you like us to include in the tool and the improvements it may need.